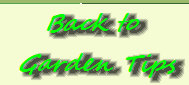 Combine herbs and honey in a sauce pan on low heat. Heat until the honey is thoroughly warm. (Do not boil.) Pour in jar and seal tightly. Store the mixture in a dark place at room temperature for one week. Return the honey mixture to a sauce pan and warm again. Strain to remove the herbs and then rebottle. Herb suggestions: Mint, Lemon Verbena, Scented Geraniums, Red clover, and thyme.
1 pint mild Honey
1Tbs. Fresh Herbs of Choice (or 1 tsp. dried)
Clean empty jar with lid.
Mays Greenhouse ©2010