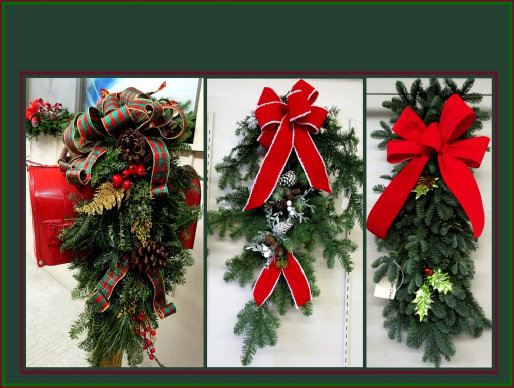 Christmas
Greenery
All items subject to availability
Mays Greenhouse ©2018
We make Christmas Wreaths, Bouquets, Centerpieces, Mantlepiece decorations, Door Charms, Swags, Mailbox covers, Grave Blankets, Crosses, and other unique Christmas decorations. You can decorate them with ornaments, pinecones & ribbons or have us do it for you!
Fresh Christmas Greens, Garlands, Wreaths & More!
Boxwood
Blue Berried Juniper
Frasier Fir
Holly
Incense Cedar
Magnolia
Noble
Port Orford Cedar
Silver Fir
White Pine
and more!
Keep out of direct sunlight & keep away from any heat sources. The cooler the location of the greens, the longer they will last. A daily misting of water will prolong the life of the greens, whether it is indoors or out. Using an anti-transpirant will help prolong freshness.
Taking care of Fresh Christmas Greens
Stop by and let us help you!
FOIL
R
I
B
B
O
N
Decorating Station
Made from Fresh Cut Greens right here on our property!
Sizes range from 12 inch up to 60 inch Wreaths!
Plain and mixed greens styles!
Call if you want to pre-order!
(812) 824-8630
Mailbox Covers, Boughs & Door charms!
We can decorate them for you!