Mays Greenhouse ©2020
6280 S. Old State Road 37

812-824-8630

Orders will be filled in the order we receive them. For orders placed electronically, you will receive an email confirming we received your order. An associate will then call you if there are any questions with your order and for payment options. Please note we only need addresses for delivery orders.
ALL ITEMS SUBJECT TO AVAILABILITY

RE-ORDERS: If you have placed an order with us in the past and would like to duplicate what you had before, we may have a copy of your order and you can re-order simply by calling us, and requesting that you want to place an order the same as last year.
For ordering Fresh-cut Christmas trees, you can place your order or pick out your tree early, and we can hold it and take care of it until you are ready for it.


Please refer to our Lists for item descriptions and prices. Use descriptions when applicable. Once the form is filled out, save it to your device and then email it to us at mays@maysgreenhouse.net
THANK YOU FOR CHOOSING US!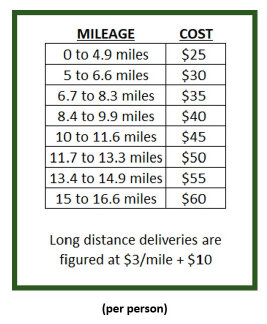 Deliveries are made during the week. They are made to the driveway or to the door only. In Monroe County, deliveries start at $25.00 per person. Some deliveries are made outside of Monroe County, call before to verify that we will deliver to your area. You can call to get a quote for delivery: (812) 824-8630